We recently reviewed dozens of iPhone 8, iPhone 8 Plus, and iPhone X cases. Noticeably absent in these round-ups were the type of cases you'd expect to find in the backpacks of folks on a camping trip or attached to the belts of blue collar professionals. Instead, we opted to put all of these heavy-duty iPhone cases into their own hard-hitting round-up. This one's for people who want a little extra piece of mind when it comes to protecting their iPhone.
After narrowing down a list of some of the most popular and promising cases, we put each one to the test here at our offices in Cambridge, Massachusetts, taking careful note of each case's durability and overall design quality. Our pick for the overall best rugged iPhone case is the Spigen Slim Armor (available at Amazon for $20.76), thanks to its military-grade drop protection and its super-thin profile.
Note: We got our hands on the iPhone 8 Plus version of each of these cases, so all of the corresponding product information listed below will be for iPhone 8 Plus case variants. That said, each of these cases is also available in models that fit the iPhone 8 and iPhone X, so be sure to direct your attention to whichever version suits your phone.
And if heavy-duty cases aren't your cup of tea, be sure to check out our round-ups for slim- and wallet-style iPhone 8 cases, iPhone 8 Plus cases, and iPhone X cases.
Updated March 13, 2018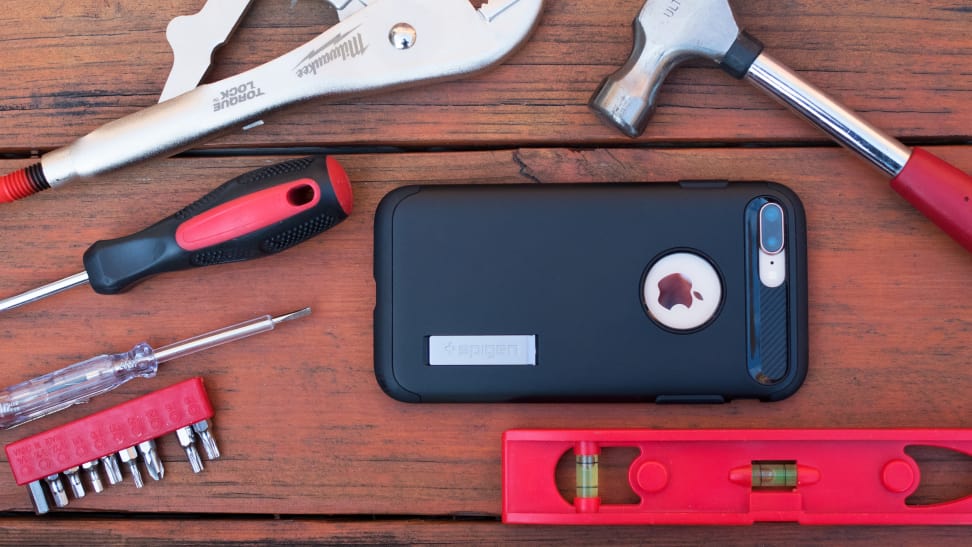 Spigen Slim Armor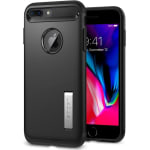 Spigen Slim Armor
Best Overall
Coming in first place is the Spigen Slim Armor, a dual-layer case that sits comfortably in between "too thin" and "too bulky." It's not the most heavy-duty case on the market, but we find the combination of its slim design coupled with its robust drop protection to be a great fit for most people.
Getting your iPhone situated inside the case is bit of an exercise, however, due to Spigen's inclusion of a plastic kickstand attachment. The process goes like this: First, slip your iPhone into the case's silicone inner-sleeve. Next, line the kickstand attachment up with its indentation on the back of the phone. Lastly, install the case's outer layer around the kickstand—the kickstand is held in place via the marriage of the case's two layers. Is it the most elegant system? Not really, but having a kickstand to lean on is a nice bonus.
Once the case was in place, I found the buttons to be springy and the edges to be grippy—the latter of which goes a long way in keeping your phone from tumbling out of your hand when you pull it out of your pocket awkwardly. My one beef with the Spigen Slim Armor's design is its cutout for the iPhone's silencer switch—there's just not an ample amount of space for your finger to flip the phone's ringer on or off.
As mentioned, the Spigen Slim Armor case isn't the heaviest, thickest case around, but its drop protection meets military certification (MIL-STD 810G-516.6) and our iPhone 8 Plus survived the series of drops I put it through in our lab. If you're hoping for a case with a bit more heft, you might be better off looking into something else, but for most people, the Spigen Slim Armor case is the sweet spot between simplicity and ruggedness.
Oh, one more thing: We can't speak for the iPhone 8 version of the Spigen Slim Armor case, but the cutout on the back of the iPhone 8 Plus variant frames the phone's Apple logo slightly off-center. This might be the result of the case originally being designed for the iPhone 7 Plus, but whatever the reason, it might bother design sticklers.
In addition to the iPhone 8 Plus version and the iPhone 8 version, there's also an iPhone X version of the Spigen Slim Armor case, and all three versions come in a variety of colors.
How We Tested
The Tester
As Reviewed's foremost writer on all things smartphone, I've handled my fair share of iPhones and the countless selection of cases available for them. Even though I'm always tempted to let a new iPhone out into the wild without a case, there's no denying that even a little bit of protection goes a long way in protecting a potentially $1,000 investment. A slim silicone case might protect against minor drops and scratches, but these heavy-duty cases are built for active lifestyles.
The Tests
Our analysis contains three main areas of focus: durability, functionality, and overall aesthetic. Obviously, our chief concern is that any case advertised as a durable option lives up to this promise. But there's more to our assessment other than some basic drop tests. For instance, is the case a pain in the neck to install? Does it offer features outside of just heavy-duty protection? And lastly, is its design worthy of its cost?
Not every rugged iPhone case is built the same way—some offer screen protectors and some don't. Others feature a bifold design with a cover. We've done our best to give each case a fair shake on its own, but ultimately, it's up to you to decide which approach is best-suited for your needs.
---
Other Rugged iPhone Cases We Tested
OtterBox Defender Series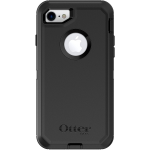 OtterBox Defender Series
The OtterBox Defender Series is one of the more heavy-duty cases in our round-up. Unfortunately, despite the Defender Series' three layers of protection, the case is fairly frustrating to use.
Right off the bat, I found the case's relatively chintzy pieces to be difficult to open and then snap back into place—I almost ripped the skin off my fingertips trying to pry the thing open. To be fair, if you don't foresee yourself removing your iPhone from its case very often, this shouldn't be an issue you encounter very often.
Once settled, the case's built-in plastic screen protector put a distracting layer between my thumbs and the iPhone 8 Plus's screen. On Amazon, users are split between those who don't mind the plastic screen protector and those, like me, who can't stand it. I understand the screen protector's existence in theory, but I don't think the minimal protection it offers is worth altering the look and feel of the iPhone's display.
The OtterBox Defender's overall design is tough to interact with, too. The buttons are far too firm, especially when the time comes to long-press the power button. The iPhone's ringer switch is placed behind a plastic plug, and once you wrestle it open, the hole underneath is too small for your finger to easily switch the ringer on or off.
One thing the Defender Series has going for it, however, is its durability—I'm having a hard time imagining any casual drop or tumble that this case would fail to protect against. It's a big, bulky, monster of a case that might not even fit in your pocket. If you're so inclined, OtterBox includes a belt harness so you can clip it to your hip.
I'd recommend this case for folks who spend a good deal of time doing the type of activity that ordinarily requires some sort of hard hat or helmet. If you just want a moderate amount of protection, the OtterBox Defender Series is probably too much bulk. If you hike, work in construction, or just generally spend your days being outdoorsy, it'll suit you well (provided you can get over the case's design flaws).
We tested the iPhone 8 Plus version of the OtterBox Defender Series, but there's also an iPhone 8 version as well as an iPhone X version.
UAG Metropolis
UAG Metropolis
The UAG (Urban Armor Gear) Metropolis is a folio-style case whose surprisingly lightweight design makes it a decent choice for people who don't want a heavy iPhone case dragging them down. The outer material is equal parts durable and soft to the touch, and the case's front flap snaps into place with a magnetic clasp. The clasp has a habit of closing in a slightly crooked way, though, so I found myself fussing with it often.
Inside the front flap is a single storage slot that can comfortably fit one or two cards. I don't see myself using the card slot, however, because the case isn't outfitted with enough pockets to replace your wallet entirely, and I'd rather have all of my cards and cash in one place. Your mileage may vary.
In drop tests, the case's magnetic flap almost always popped open in the air or upon impact, so your iPhone's display is still somewhat vulnerable inside the UAG Metropolis. The good news, though, is that this case meets military drop-test standards and should protect your iPhone from various mishaps—provided it doesn't land display-first.
What I like most about the UAG Metropolis is how tight and compact it feels when it's hugging an iPhone. The material is so svelte that it almost feels like it's an extension of the phone itself.
If you don't have an iPhone 8 Plus, you can get the UAG Metropolis in its iPhone 8 form or its iPhone X form.
Silk Armor "Guardzilla"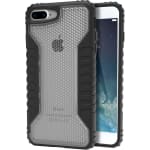 Silk Armor "Guardzilla"
This case from Silk is about as no-frills as you can get, but if you're looking for a case that's slightly tougher than a garden-variety silicone sleeve, you might want to consider the Guardzilla.
It's a mostly opaque, single-layer case made from a stiff plastic, and its outer shell is touched with textured, rubberized grips. Unfortunately, this case doesn't appear to clear any military-level benchmarks when it comes to drop protection, but in our drop tests it held up after a handful of falls. The case also ships with a couple of tempered glass screen protectors, which are totally optional.
And although the Guardzilla's "crystalized" design looks a little goofy when you first take it out of the box, I found that the pattern turned the back of our iPhone into a satisfying, psychedelic illusion.
The case comes in three colors (Clear, Smoke, and Crimson) and is also available in an iPhone 8 version as well as an iPhone X version.
Ringke Onyx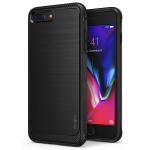 Ringke Onyx
The slimmest case in our round-up is the Ringke Onyx—an inexpensive, single-layer case that would probably be better off in one of our non-rugged iPhone case round-ups. To put it simply, the Ringke Onyx is a decent case, but its promise to be a "rugged line of defense" is not one it's likely to live up to.
The flexible TPU (thermoplastic urethane) material fit snugly around our iPhone, but we were worried about carrying out all of our drop tests on the Ringke Onyx for fear that the phone might not survive intact.
The case's overall aesthetic is quite nice and the price is affordable, but don't expect to get reliable protection outside of everyday dings and scratches.
In addition to the iPhone 8 Plus model, the Ringke Onyx can also be had in an iPhone 8 version and an iPhone X version.