The iPhone 8 is a top-shelf smartphone covered in glass—it might survive a tumble onto a carpet, but if your case-less new phone meets the sidewalk, you're probably going to walk away with a splintered screen.
We bought nearly a dozen of some of the most popular iPhone 8 cases on the market, testing the durability, functionality, and overall build quality of each. Due to the wide selection of different smartphone case styles, we were reticent to crown an overall best choice, but we did find the Dreem Fibonacci vegan leather wallet case to be the best wallet-style option, and our pick for the best slim case is the Caseology Parallax.
Here's how the rest of them stack up.
Updated February 28, 2018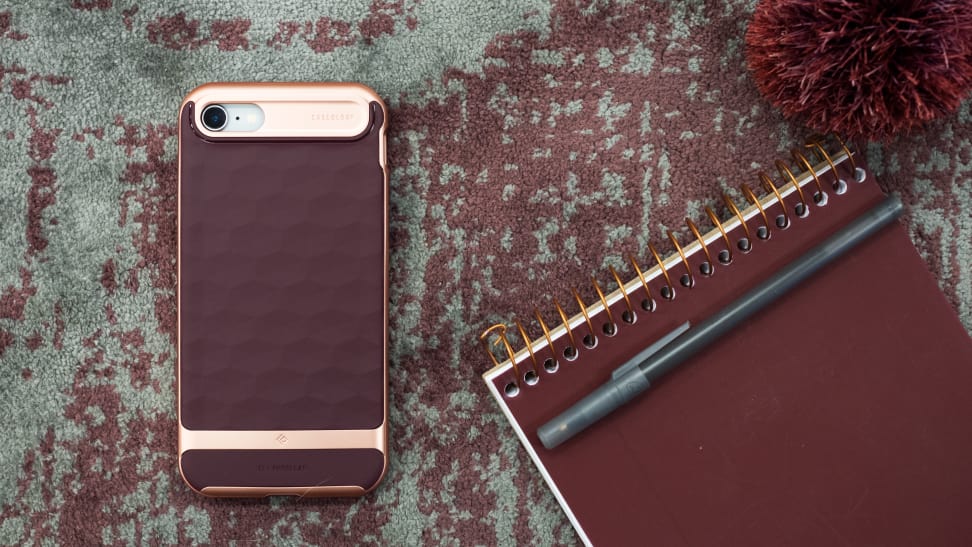 Caseology Parallax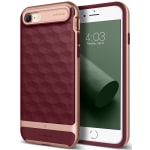 Caseology Parallax
Best Slim Case
The Caseology Parallax is a dual-layer case with a simple, aesthetically pleasing design. It's available in several different two-tone options (though we picked up the burgundy variant to match our silver iPhone 8).
The Caseology Parallax is slim, making it a great fit for the already slim iPhone 8. In terms of durability, the case's stiff frame should offer moderate protection for short falls, but it probably isn't a good fit for a rugged, off-road lifestyle.
Customer reviews of the Parallax are generally positive, though a small percentage of people note that their case did not last as long as they would've liked. If you're in the market for a slim, basic case that offers moderate protection at a decent price, the Parallax series is available on Amazon for around $18.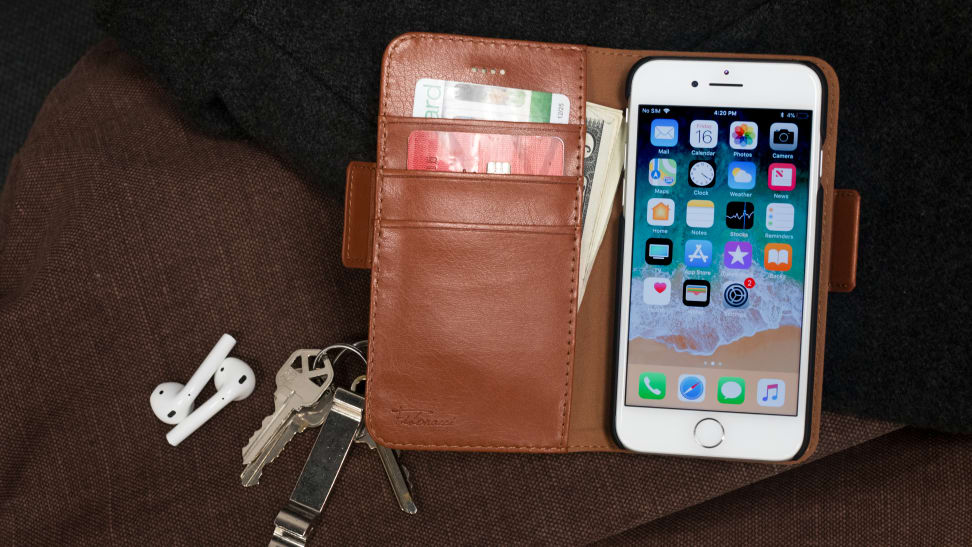 Dreem Fibonacci (Vegan Leather)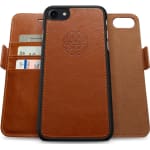 Dreem Fibonacci (Vegan Leather)
Best Wallet-Style Case
The Dreem Fibonacci vegan leather case functions as both a stylish case for your iPhone as well as a wallet for your credit cards and cash.
The bifold wallet case holds shut thanks to a strong magnetic clasp. Inside, the iPhone sits inside a secondary vegan leather sleeve that stays in place with another magnet. The magnets are strong enough to hold everything together, which they ought to be given the design of the Fibonacci case. The case won't offer much protection, however, because dropping it will launch the phone out of its fixed magnetized position.
Although Dreem's latest iteration of this wallet advertises RFID protection for the card slots, we were able to scan our office keycards through the wallet without problem. Your mileage may vary, but regardless, RFID protection isn't as important as manufacturers would have you believe.
The best thing I can say about this case is that it functions well as a wallet and looks damn good, to boot. At just $35 on Amazon, it's the best option for folks looking for a wallet-style iPhone 8 case.
Apple Leather Case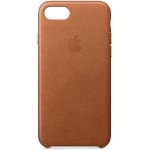 Apple Leather Case
Apple's signature, one-piece leather iPhone 8 case comes in seven or eight colors depending on your retailer, and in terms of its design, certainly looks like a premium case. After installing our iPhone 8 and using the case for an extended period of time, I noticed a handful of drawbacks that you'll want to take note of.
First, the leather itself: Out of the box, the leather is extra susceptible to scratches and dings due to its finish. Everything from fingernails to car keys will carve sloppy looking lines into the case's skin. That said, we've seen this style of case naturally darken over time, which goes a long way in smoothing the scratches out. The texture is also quite slippery—even more slippery than a naked iPhone 8.
Right now, this leather iPhone case from Apple is about $36 to $42 on Amazon. This price tag isn't indicative of quality so much as it is a result of being a first-party Apple product. If you've used and enjoyed variations of this case in the past, you'll probably love this one, too. However, if you're at all skittish about handing over $40 for a simple, leather case, you might want to pick up something else.
Under Armour Protect Grip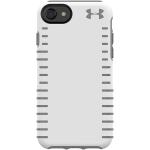 Under Armour Protect Grip
This single-layer case from Under Armour is sturdier than most of the one-piece cases we tried out, which makes it a decent option for anyone looking for a moderate level of protection without the bulk that comes with modular cases.
The back of the Under Armour case is stiff and not as grippy as a traditional silicone case, but there are raised ridges on the side of the case that deliver a graspable texture where it matters.
Ultimately, it's difficult to recommend the Under Armour grip case for anyone who isn't infatuated with the Under Armour brand to begin with. You could certainly do worse, but the $40 asking price on Amazon is steep for what you're getting here.
Speck CandyShell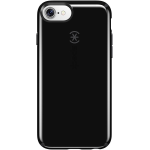 Speck CandyShell
I don't find the glossy plastic design of the Speck CandyShell case to be particularly good-looking, but your mileage may vary. I can say, however, that its dual-layers and raised bezel inspire confidence when I imagine all of the nasty spills waiting to befall your iPhone 8.
The buttons are springy and responsive, the ringer switch hole is accommodating, and the entire package is relatively slim, given the protection you're likely to get out of the deal.
The Speck CandyShell is available in black-and-grey as well as a garish purple-and-orange variant that, I don't think I could look at for longer than five seconds without doing permanent damage to my eyes. But hey—maybe that's your thing! It's currently available on Amazon for a cool $20.
Apple Silicone Case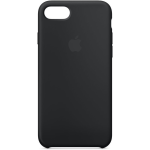 Apple Silicone Case
Apple's official single-layer silicone case is everything you want in a case of this type: It's durable, easy to grip, svelte, and features responsive buttons. That said, it'll set you back $30-$35 on Amazon, depending on the color you opt for.
If you bought older variations of this case from Apple in the past and were satisfied, it's hard to imagine you being disappointed in the iPhone 8 version, but you'll still have to—wait for it—come to grips with its steep price yet again.
Kanvasa One Leather Case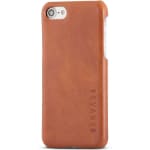 Kanvasa One Leather Case
This one-piece leather case from Kanvasa looks good—from a distance. Upon closer inspection, you'll notice that the "genuine leather" used for this case is a thin layer that's been somewhat sloppily glued on top of a chintzy plastic case. On the one we purchased, this layer of leather is even peeling off in spots.
Given the case's slim profile and questionable build, I wouldn't expect more than moderate protection, mostly from potential scratches to your iPhone 8's glass back.
At $20 on Amazon, the cost is neither cheap nor exorbitant, but I can only recommend this case to people in search of surface-level good looks for what might only end up being a few months before a replacement is needed.
Supcase Unicorn Beetle Pro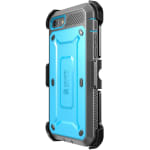 Supcase Unicorn Beetle Pro
Like most heavy-duty style iPhone cases, the Unicorn Beetle Pro from Supcase features multiple layers of protection, including a thin, plastic screen protector. Perhaps cases like these just aren't for me, but given the inherent strength of an iPhone's glass display and the thinness of the screen protector, I really don't see a use for this feature other than collecting a bunch of oily fingerprints. Put it this way: If your phone display manages to come away from a drop without cracking, it won't be because of this case's screen protector.
However, if you lead the type of lifestyle that demands heavy-duty smartphone protection (and you don't mind the plastic screen protector), the Unicorn Beetle Pro is a decent option that won't set you back very much. Its sturdy build and multi-layer design inspires the type of confidence you would hope for from a case of this style.
Right now the Unicorn Beetle Pro is only $18-$20 on Amazon, depending on which of the five color options you spring for.
AmazonBasics Leather Wallet Case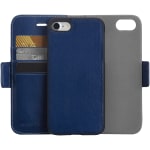 AmazonBasics Leather Wallet Case
This wallet case from Amazon's own brand, AmazonBasics, has a lot in common with the Dreem Fibonacci wallet case—both feature a bifold design, a magnetic clasp, and a few slots for cards and cash. The AmazonBasics wallet case, however, is about $10 less than Dreem's.
But you may want to consider ponying up the extra cash anyway, because the AmazonBasics take on this style is significantly clumsier. The problem stems from the clasp's magnet, which is too strong for its own good. The Dreem Fibonacci wallet's magnet is strong enough to stay shut but weak enough to open with one hand, but the AmazonBasics clasp is hard to undo.
Even when the top flap is disengaged from the bottom flap and pushed as far back as it can bend, the corner of it remains stuck to the bottom flap due to the magnet's strength. The result is that, nearly every time you reach for your phone, you have to fumble with the case's cover first.
The case comes in five different colors and is listed on Amazon for about $25, but we only recommend it if you're dead-set on saving some money on a decent-enough wallet case.
OtterBox Defender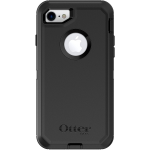 OtterBox Defender
The OtterBox Defender Series is one of the more heavy-duty cases in our round-up. Unfortunately, despite the Defender Series' three layers of protection, the case is too frustrating to use and too costly for most users.
Right off the bat, I found the case's relatively chintzy pieces to be difficult to snap into place. Once settled, the case's awkward plastic screen protector put a distracting layer between my thumbs and the iPhone 8's screen. On Amazon, users are split between those who don't mind the plastic screen protector and those, like me, who can't stand it.
At around $20 to $45 on Amazon, the OtterBox Defender Series case is probably not worth the cost or the trouble.
Allovit Kickstand Case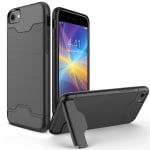 Allovit Kickstand Case
This eight-dollar, dual-layer Allovit case might seem like an enticing, low-cost prospect, but we recommend you steer clear for a number of reasons. First, the materials used and overall build quality feel cheap, particularly the kickstand—its centerpiece feature.
In addition to general build quality concerns, the hole for the iPhone 8's ringer switch is too small, so your only hope for conveniently accessing your phone's ringer rests in how long your fingernails are.
Even at the low price of $8 on Amazon, this Allovit case just isn't worth the hassle. That $8 can go towards a $10-$15 case with better design.