The iPhone 8 Plus is a top-shelf smartphone covered in glass—it might survive a tumble onto a carpet, but if your case-less new phone meets the sidewalk, you're probably going to walk away with a splintered screen.
We bought nearly a dozen of some of the most popular iPhone 8 Plus cases on the market, testing the durability, functionality, and overall build quality of each. The goal? To find the best iPhone 8 Plus case for most people. But after checking out over two dozen of the most popular iPhone 8 and 8 Plus cases, there simply isn't a perfect smartphone case for everyone.
That said, the Torras Liquid Silicone Case (available at Amazon) is the best choice for people who want a slim case, while the Dreem Fibonacci Vegan Leather Wallet Case (available at Amazon) is the best wallet-style option we've tried.
While we think those picks will cover most people—especially since both cases come in a wide variety of color choices—here's how all the iPhone 8 Plus cases we tested stack up.
Updated February 16, 2018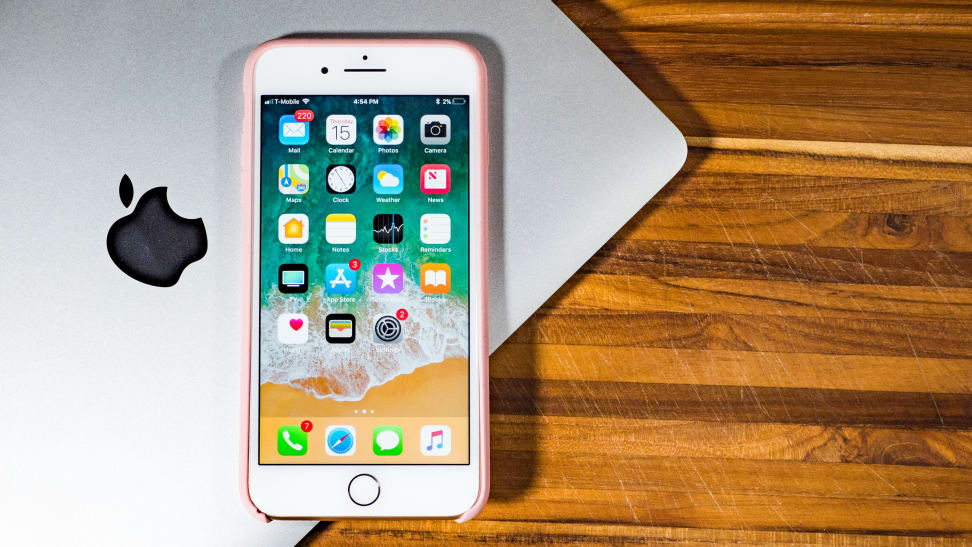 Torras Liquid Silicone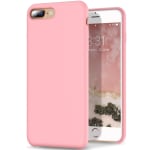 Torras Liquid Silicone
Best Slim Case
A slogan on the box for the Torras liquid silicone iPhone 8 Plus case reads "Simplicity for Life," and that's exactly what you can expect with the case itself. It's a single slab of stiff silicone that emphasizes the slimness of your iPhone. Simplicity!
Inside the case is a suede-like microfiber texture that pampers the back of your iPhone and makes it easy to remove and replace. One minor drawback, however, is the grippy texture on the outside. On one hand, it makes the case supremely easy to hold onto. On the other hand, it collects lint like nobody's business. Debris is easily removable with a damp cloth, but if you're picky about these things, you've been warned.
Some customers have reported degradation over time—especially along the corners—but at around $16 on Amazon, you really can't go wrong. The Torras liquid silicone case is the best option for people who can live with minimal protection so long as their case isn't bulky.
The version we tested fits both the iPhone 7 Plus and 8 Plus. It is available in light blue, pink, red, yellow, midnight blue, mint, and solid black.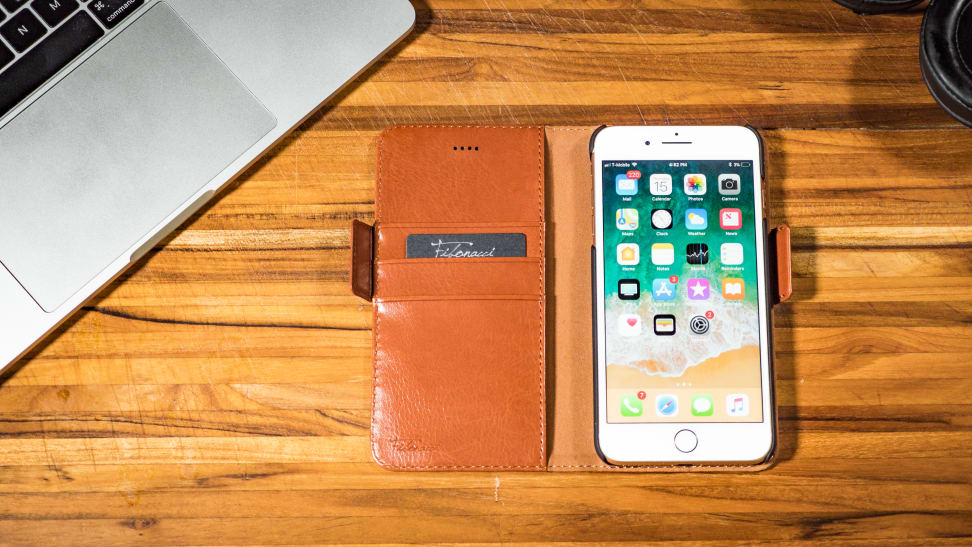 Dreem Fibonacci (Vegan Leather)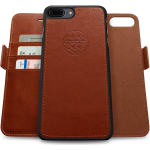 Dreem Fibonacci (Vegan Leather)
Best Wallet-Style Case
The Dreem Fibonacci vegan leather case functions as both a stylish case for your iPhone as well as a wallet for your credit cards and cash.
Unlike other wallet cases, the Dreem Fibonacci is actually two cases in one, with a leather sleeve that houses your phone and attaches to the rest of the case with magnets. The magnets are strong enough to hold everything together (and keep the cover closed), though if you drop it we are concerned the phone itself could pop out and be exposed.
The case looks and feels great, but we have some concerns. The biggest one is that the advertised kickstand feature is basically worthless. The iPhone 8 Plus simply weighs too much, causing the crease holding it up to collapse.
And although Dreem's latest iteration of this wallet advertises RFID protection for the card slots, we were able to scan our office keycards through the wallet without problem. This actually is a benefit in our eyes. We just don't put much stock in the need for RFID protection, and this case should work well with subway passes and other RFID-reliant tech.
Those issues aside, this is a functional wallet case that looks damn good, to boot. At just $35 on Amazon, it's the best option for folks looking for a wallet-style iPhone 8 Plus case.
The version we tested and linked above fits both the iPhone 7 Plus and 8 Plus. It is available in black, gray, chocolate brown, caramel brown, coral pink, rose gold, red, sky blue, and royal blue.
Caseology Parallax
Caseology Parallax
The Caseology Parallax is a dual-layer case with a simple, aesthetically pleasing design. It's available in several different two-tone options (though we picked up the burgundy variant to match our gold iPhone 8 Plus).
The Caseology Parallax is slim, making it a great fit for the already slim iPhone 8 Plus. In terms of durability, the case's stiff frame should offer moderate protection for short falls, but it probably isn't a good fit for a rugged, off-road lifestyle.
Customer reviews of the Parallax are generally positive, though a small percentage of people note that their case did not last as long as they would've liked. If you're in the market for a slim, basic case that offers moderate protection at a decent price, the Parallax series is available on Amazon for around $18.
The model we tested fits both the iPhone 7 Plus and 8 Plus. It's available in burgundy, aqua green, black, coral pink, and ocean gray.
Under Armour Protect Grip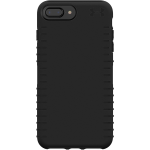 Under Armour Protect Grip
This single-layer case from Under Armour is sturdier than most of the one-piece cases we tried out, which makes it a decent option for anyone looking for a moderate level of protection without the bulk that comes with modular cases.
The back of the Under Armour case is stiff and not as grippy as a traditional silicone case, but there are raised ridges on the side of the case that deliver a graspable texture where it matters.
Ultimately, it's difficult to recommend the Under Armour grip case for anyone who isn't infatuated with the Under Armour brand to begin with, but for around $30 on Amazon, you could certainly do worse.
The model we tested fits both the iPhone 7 Plus and iPhone 8 Plus. It's available black, white, graphite/lime, midnight navy/mediterranean blue, and white/black.
Speck Presidio Grip
Speck Presidio Grip
The Speck Presidio Grip is a single-layer, no-frills case that comes in a host of different color combinations. It gets its name from the pattern of slightly raised lines along its backside, which gives your hand something to hold onto.
Speck promises drop protection for up to 10 feet, but given its simple design, I wouldn't bank on it keeping your iPhone 8 Plus safe during a particularly nasty tumble.
At around $27 on Amazon, the Speck Presidio Grip is a safe bet for people who want to keep things simple and forgo a bulky, ultra-protective shell. Amazon's customer feedback indicates overall satisfaction, as well.
The model we tested fits both the iPhone 7 Plus and iPhone 8 Plus. It comes in purple, black, grey/green, grey/pink, blue/black, grey/grey, teal/blue, and white/black.
Apple Leather Case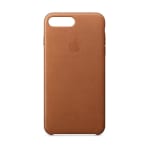 Apple Leather Case
Apple's signature, one-piece leather iPhone 8 Plus case comes in five to six colors depending on your retailer, and in terms of its design, certainly looks like a premium case. After installing our iPhone 8 Plus and using the case for an extended period of time, I noticed a handful of drawbacks that you'll want to take note of.
First, the leather itself: Out of the box, the leather is extra susceptible to scratches and dings due to its finish. Everything from fingernails to car keys will carve sloppy looking lines into the case's skin. That said, we've seen this style of case naturally darken over time, which goes a long way in smoothing the scratches out. The texture is also quite slippery—even more slippery than a naked iPhone 8 Plus.
It's possible that the case we bought was defective, but it's also worth pointing out that the hole in the back that accommodates the iPhone 8 Plus's dual camera is crooked, so the outline of the hole doesn't line up with the outline of the iPhone's camera hump.
Right now, this leather iPhone case from Apple is about $42 on Amazon. This price tag isn't indicative of quality so much as it is a result of being a first-party Apple product. If you've used and enjoyed variations of this case in the past, you'll probably love this one, too. However, if you're at all skittish about handing over $40 for a simple, leather case, you might want to pick up something else.
The model we tested should fit both the iPhone 7 and iPhone 8 Plus. It's available in brown, black, red, grey, midnight blue, and taupe.
Supcase Unicorn Beetle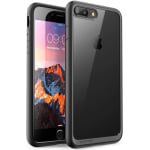 Supcase Unicorn Beetle
The Supcase Unicorn Beetle case is a transparent, single-layer case with rubber bumpers lining the edges.
One major issue with the Unicorn Beetle case are its buttons, which take the form of marked spots on the edges where there's less resistance in the rubber, rather than actual, elevated buttons. This makes your iPhone's volume and power buttons difficult to press, which puts it at a slight disadvantage compared to some of its contemporaries.
Still, at just $10 on Amazon, you might be willing to put up with a less-than-ideal button situation. The Beetle Unicorn isn't the most attractive case in the game, but it's affordable and feels sturdy enough to protect your iPhone from minor mishaps.
The Supcase Unicorn Beetle case fits both the iPhone 7 Plus and iPhone 8 Plus. All versions have a transparent back with bumpers that come in your choice of black, navy, pink, gold, green, or rose gold.
AmazonBasics Clear Case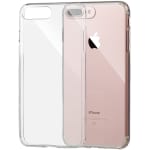 AmazonBasics Clear Case
Amazon's own brand, AmazonBasics, isn't trying to wow anyone with its ultra-basic, clear plastic iPhone 8 Plus case—what you see is what you get.
But for some people, an 100% transparent case with no discernible features is exactly what the doctor ordered. And, to its credit, this AmazonBasics case doesn't make some of the same mistakes that higher-end cases make—its easy to install your phone and the buttons don't pose any problems.
Make no mistake: This case won't offer much more than basic scratch protection and maybe a bit of cushioning for minor drops. We recommend it for people who are happy with the bare essentials in life. And at just $10, it won't break the bank, either.
The AmazonBasics iPhone 8 Plus case will also fit the iPhone 7 Plus, though a version also exists that fits the iPhone 7 and iPhone 8. It is only available in clear plastic.
OtterBox Defender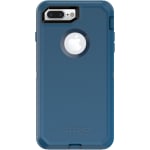 OtterBox Defender
The OtterBox Defender Series is one of the more heavy-duty cases in our round-up. Unfortunately, despite the Defender Series' three layers of protection, the case is too frustrating to use and too costly for most users.
Right off the bat, I found the case's relatively chintzy pieces to be difficult to snap into place. Once settled, the case's awkward plastic screen protector put a distracting layer between my thumbs and the iPhone 8 Plus's screen. On Amazon, users are split between those who don't mind the plastic screen protector and those, like me, who can't stand it.
At around $35 on Amazon, the OtterBox Defender Series case is probably not worth the cost or the trouble.
The model we tested fits both the iPhone 7 Plus and iPhone 8 Plus. It's available in black, two slightly different blue combinations, beige/blue, blue/mint, orchid/purple, agave green/maritime blue, and plum/rose gold.