The iPhone X is a $1,000 smartphone covered in glass—it might survive a tumble onto a carpet, but if your case-less new phone meets the sidewalk, you're probably going to walk away with a splintered screen.
We bought several of the most popular iPhone X cases on the market, testing the durability, functionality, and overall build quality of each. Due to the wide selection of different smartphone case styles, we were reticent to crown an overall best choice, but we did find the Silk Wallet Slayer Vol. 2 to be the best wallet-style option, and our pick for the best slim case is the Caseology Parallax.
Here's how the rest of them stack up.
Updated February 23, 2018
Silk Wallet Slayer Vol. 2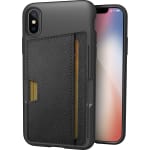 Silk Wallet Slayer Vol. 2
Best Wallet-Style Case
The Wallet Slayer from Silk is part-phone case, part-card-holder, and despite Silk's gratingly cheeky marketing copy ("Netflix and chill" is a phrase I never want to hear uttered again), the Wallet Slayer does a great job protecting your iPhone X while holding your cash and cards.
The card slot—which takes up most of the case's back—is made from a surprisingly soft, flexible plastic. The remainder of the case is comprised of a stiffer plastic for drop protection, and the case's edges feature a rough texture, which makes it easy to grip.
Even though the Wallet Slayer case isn't spacious or functional enough to replace my actual wallet, I still find it to be convenient for subway passes, cash, or security cards. Plus, the case feels sturdy enough to guard against short-distance drops.
The Wallet Slayer comes in three stylish color options—Black Onyx, Blue Jade, and Crimson Red—and will set you back about $24 via Amazon. It's not the most affordable case out there, but it's good-looking and multifunctional.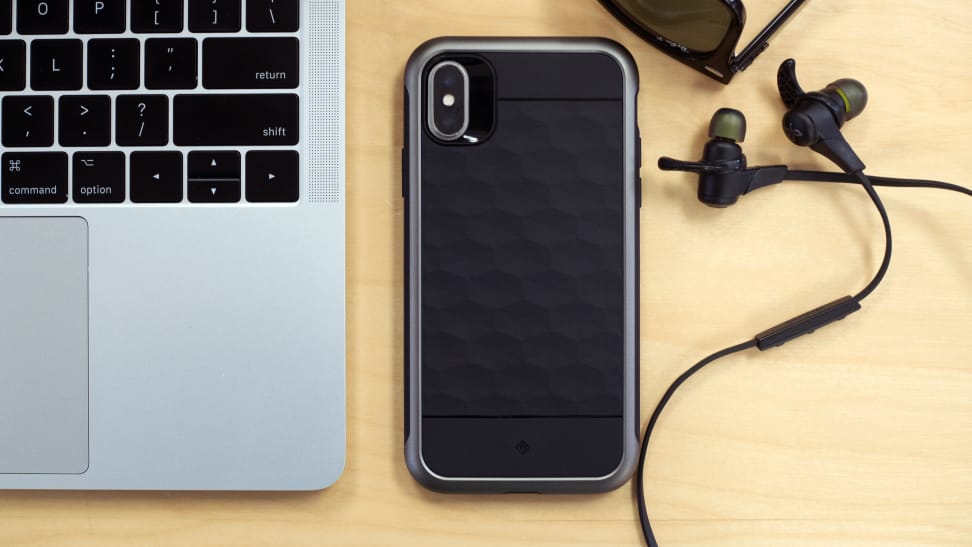 Caseology Parallax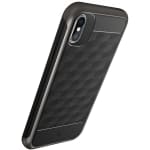 Caseology Parallax
Best Slim Case
The Caseology Parallax is a dual-layer case with a simple, aesthetically pleasing design. It's available in several different two-tone options (though we picked up the black and gray version to match our iPhone X).
The Caseology Parallax is slim, making it a great fit for the already slim iPhone X. In terms of durability, the case's stiff frame should offer moderate protection for short falls, but it probably isn't a good fit for a rugged, off-road lifestyle.
Customer reviews of the Parallax are generally positive, though a small percentage of people note that their case did not last as long as they would've liked. If you're in the market for a slim, basic case that offers moderate protection at a decent price, the Parallax series is available on Amazon for around $18. At that price, it's hard to beat.
Under Armour Protect Grip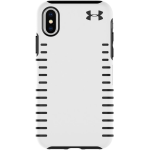 Under Armour Protect Grip
This single-layer case from Under Armour is sturdier than most of the one-piece cases we tried out, which makes it a decent option for anyone looking for a moderate level of protection without the bulk that comes with modular cases.
The back of the Under Armour case is stiff and not as grippy as a traditional silicone case, but there are raised ridges on the side of the case that deliver a graspable texture where it matters.
Ultimately, it's difficult to recommend the Under Armour grip case for anyone who isn't infatuated with the Under Armour brand to begin with. You could certainly do worse, but the $40 asking price on Amazon is steep for what you're getting here.
Speck Presidio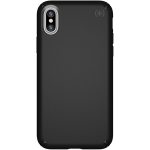 Speck Presidio
The Speck Presidio is a single-layer, no-frills case that comes in two color options: black and dusty green.
Speck promises drop protection from the Presidio case for up to 10 feet, but given its simple design, I wouldn't bank on it keeping your iPhone X Plus safe during a particularly nasty tumble. We did appreciate the case's raised bezel, which keeps your iPhone X's screen from touching whatever surface you happen to place it on.
The Speck Presidio iPhone X case is a safe bet for people who want to keep things simple and forgo a bulky, ultra-protective shell. That said, at around $32 on Amazon it is a bit on the pricey side given its simplistic design.
Supcase Unicorn Beetle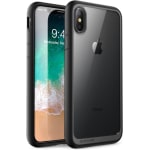 Supcase Unicorn Beetle
The Supcase Unicorn Beetle case is a transparent, single-layer case with rubber bumpers lining the edges.
One major issue with the Unicorn Beetle case are its buttons, which take the form of marked spots on the edges where there's less resistance in the rubber, rather than actual, elevated buttons. This makes your iPhone's volume and power buttons difficult to press, which puts it at a slight disadvantage compared to some of its contemporaries.
Still, at just $11 on Amazon, you might be willing to put up with a less-than-ideal button situation. The Beetle Unicorn isn't the most attractive case in the game, but it's affordable and feels sturdy enough to protect your iPhone from minor mishaps.
All versions of the Supcase Unicorn Beetle feature a transparent back with bumpers that come in your choice of black, navy, pink, green, or violet.
AmazonBasics Leather Wallet Case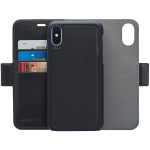 AmazonBasics Leather Wallet Case
This wallet case from Amazon's own brand, AmazonBasics, is a decent option for folks in the market for a wallet-style case, but there are some drawbacks to its design.
The biggest problem stems from the case's clasping mechanism, whose magnet is a little too strong for its own good. Even when the top flap is disengaged from the bottom flap and pushed as far back as it can bend, the corner of it remains stuck to the bottom flap due to the magnet's strength. The result is that, nearly every time you reach for your phone, you have to fumble with the case's cover first.
The case comes in five different colors (navy, black, brown, dark brown, and dark grey), and it's currently listed on Amazon for about $28. We only recommend it if you're dead-set on saving some money on a decent-enough wallet case.
Apple Leather Case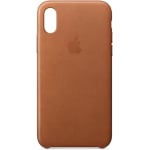 Apple Leather Case
Apple's signature, one-piece leather iPhone X case comes in eight or nine colors depending on your retailer, and definitely plays the part of a premium case with gusto. Unfortunately, you can also say the same about its price tag.
To be clear, this leather case isn't an investment in security. You're paying more for its stylish, iconic look than you are for its ability to protect your iPhone from dangerous drops. It excels at two things: protecting the back of your iPhone from scratches and looking good.
A note on the leather: You can expect to see some immediate, noticeable wear-and-tear in the form of scratches. Like any genuine leather product, the surface will smoothen out and darken over time, but you'll have to put up with a break-in period.
Right now, this leather iPhone case from Apple is about $37 to $49 on Amazon. This price tag isn't indicative of quality so much as it is a result of being a first-party Apple product. If you've used and enjoyed variations of this case in the past, you'll probably love this one, too. However, if you're at all skittish about handing over close to $50 for a simple, leather case, you might want to consider alternatives.
Anker Karapax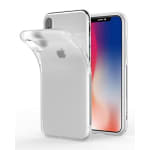 Anker Karapax
The Anker Karapax is a basic, single-layer silicone case whose only noteworthy feature is its absurdly low price. It comes in both black and white, but both color are opaque—not totally transparent.
The fit is snug and the buttons are responsive, and the material feels sturdy enough to protect the chrome edges of the iPhone X from small nicks and tumbles. That said, there's no protection for the iPhone X's camera hump, so if you find yourself neurotic about it—and no judgments if you are—take that into consideration.
There's also a number of customer reports detailing how the Anker Karapax—in particular the white version—tends to yellow over time. The discoloration was acknowledged by Anker in the form of replacement cases, but you've been forewarned. It also appears as though the black colored models are less affected by the discoloration problem.
At around $7 to $8 on Amazon, its low price might outweigh its potentially short lifespan, but if you're looking for a more sure-fire bet, you may want to pass.
Benuo Handmade Leather Case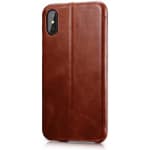 Benuo Handmade Leather Case
This bifold leather iPhone X case from Benuo arrives in a package adorned with images of people delicately assembling it. While I can't speak to the accuracy of the pictures, it certainly feels like a case that was labored over. Not every angle and stitch is precisely where it ought to be, but these incredibly minor errors only contribute to the Benuo case's sense of craftsmanship.
The genuine leather case hugs your iPhone X, and its cutouts are ample enough for the phone's ports and speakers. That said, I do have three complaints: The magnet that holds the front flap shut isn't strong enough to keep it in place, the volume buttons merely amount to "+" and "-" symbols that can be hard to find with your fingers, and the spine of the case covers up the ringer switch completely.
If you're in the market for a leather case that really compliments the top-shelf design of the iPhone X, this is one of your best bets. At press time, however, the case was no longer available on Amazon, so you might have to wait a while for one.