Update: The Samsung Galaxy Note 7 has been recalled due to multiple reports indicating that the phone can spontaneously catch fire or begin smoking. If you own a Note 7 you should power it down and return it to the manufacturer or your carrier as soon as possible.
---
In recent years, Samsung's line of Galaxy smartphones, from the Galaxy S6 Edge to the Samsung Galaxy S7, helped propel Samsung to the top of the industry. These are high-powered, expertly-designed smartphones built to outperform their competition in nearly every way.
The Galaxy Note line—with its large screens and stylus support—is a way for Samsung to bring phablet fans into the Galaxy fold. For a short amount of time, the Samsung Galaxy Note 5 was our best-reviewed smartphone—that is, until it was dethroned by the Samsung Galaxy S7 a short time later.
The Samsung Galaxy Note 7 is this year's entry into one of the best smartphone lines we've ever seen. It's similar to the Galaxy Note phablet we saw last year, but with a wide array of improvements that could yet again catapult the Note to the top of our rankings when we review it next month.
I got to spend a good amount of time with the Galaxy Note 7 at a private briefing in New York City last week, and I'm happy to report that yes, the Note 7 is the real deal.
About the Samsung Galaxy Note 7
The first question on everyone's mind is a good one: What on earth happened to the Galaxy Note 6? No, you didn't sleep through a new Galaxy release; Samsung went straight from the Galaxy Note 5 to the Note 7. The reasoning behind it is actually quite simple—the Note 7 is built on the solid hardware and software foundations of last year's Galaxy S7 (our current highest-rated smartphone.).
Samsung went straight from the Galaxy Note 5 to the Note 7.
Tweet It
• Quad core (2.15GHz Dual and 1.6GHz Dual) processor
• 4GB LPDDR4 RAM
• 64GB memory, microSD slot for up to 256GB of external storage
• 5.7 quad HD (2560x1440) AMOLED display
• WiFi AC/Bluetooth
• 3,500mAh lithium-ion battery with fast/wireless charging support
• USB Type-C support
Like the Samsung Galaxy S7, the Note 7 is outfitted with rubber and silicon sealing for IP68-rated water resistance. It's available in four colors—Black Onyx, Coral Blue, Titanium Silver, and Platinum Gold—though the Platinum Gold variant won't be available in the United States.
And it wouldn't be a Galaxy Note with Samsung's S Pen, which benefits from significant improvements this year when it comes to its pressure sensitivity and functionality (more on that later, though).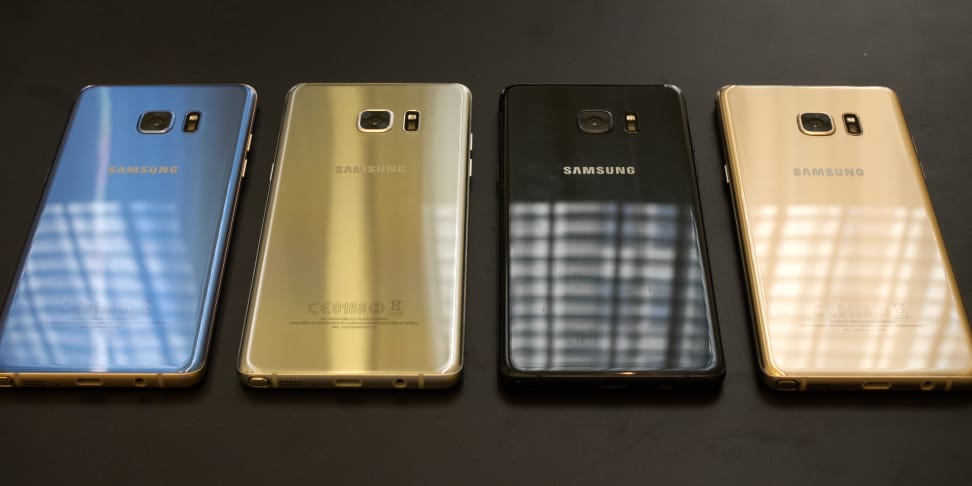 What We Like
An improved S Pen
Of all the upgrades and additions engineered into the Note 7, the much-improved S Pen seemed to be the one the Samsung representatives were the most proud of. It's hard to believe that Samsung could improve upon the pen that shipped with the Note 5, but having used both, I can attest to its improved functionality.
Using the Note 5's stylus side-by-side with the Note 7 was a lot closer to night-and-day than I anticipated.
Tweet It
Using the Note 5's stylus side-by-side with the Note 7 was a lot closer to night-and-day than I anticipated. Samsung boasts that the new, shrunk-down tip of the S Pen creates a sensation more reminiscent of a ballpoint pen, and frankly, I was picking up exactly what they were putting down; the added sensitivity allows for more precise writing and drawing.
It's also possible to draft notes directly onto the Note 7's Always On display simply by pinning the memo to the Always On menu, which makes jotting down random thoughts and reminders easier than ever.
One thing on its mind: Security
If you thought fingerprint scanners were still at the frontline of smartphone security, think again—Iris scanning has arrived, and we are all now living in Minority Report.
The Note 7 uses an IR scanner and a dedicated, front-facing camera to scan your irises, and man, does it work fast. So fast, in fact, that I was unable to snap a picture of it in action; by the time I got my camera focused, the action had already taken place.
The iris scanner can be used to unlock the phone, of course, but you can also use it to access private files and apps in something Samsung is calling Secure Folder, which is a separate folder with an added layer of security built into it.
A battery with a little more oomph (and USB-Type C support!)
When it comes to battery life, Samsung's Galaxy series has stood head-and-shoulders above its competition in recent years. This can be attributed to two things—the high-capacity batteries underneath the hood, and the series' adoption of AMOLED displays, which are capable of shutting off the light emitted by individual pixels at any given time.
The Note 7 is packing a 3,500mAh battery this time around
Tweet It
Last year, the Galaxy Note 5 featured a 3,000mAh battery, which put up some of the best test results we've seen to date. The Note 7 is packing a 3,500mAh battery this time around, and logic dictates that the Note 5's stellar battery life is about to be bested.
I'd also be remiss if I didn't voice my enthusiasm for the Note 7's USB Type-C charging port, which supports Fast Charging, fast data transfer, and reversible connectors. Hot dog!
A camera that seems every bit as good as the S7's
Not much can be said about the Galaxy Note 7's camera until we put it to the test in our imaging lab, but I consider my eyes to be relatively well-trained when it comes to the naked eye test, and I loved what I saw.
The Note 7's dual-pixel, 12MP camera features OIS (optical image stabilization) and focuses as quickly as I've ever seen a smartphone camera hunt for its subject. In true Galaxy fashion, colors appeared rich and well-saturated without looking too saturated, and the camera software itself was easy to navigate.
Creating GIFs is fun, easy, and bound to make texting a lot more fun.
It might not be the most notable new software feature this year, but Samsung's GIF-making software certainly has the potential to be the most rewarding. Essentially, the S Pen and Smart Select can now be used to draw boxes around non-DRM video for GIFs lasting up to fifteen seconds long.
Samsung's GIF-making software certainly has the potential to be the most rewarding new feature.
Tweet It
Have an idea for a good reaction GIF to pull from a movie trailer on YouTube? Make it a GIF. Got an embarrassing video of your friend falling off a bike? Immortalize it in all of its glory. GIFs can even be edited afterwards, too, if you decide to meme-ify your friend's embarrassment.
What We Don't Like
You'd better have a microfiber cloth on hand.
As exciting as it was to see a Galaxy phone in a color as perky and cool as Coral Blue, I found all four of the new color variants to be insanely prone to smudges and fingerprints.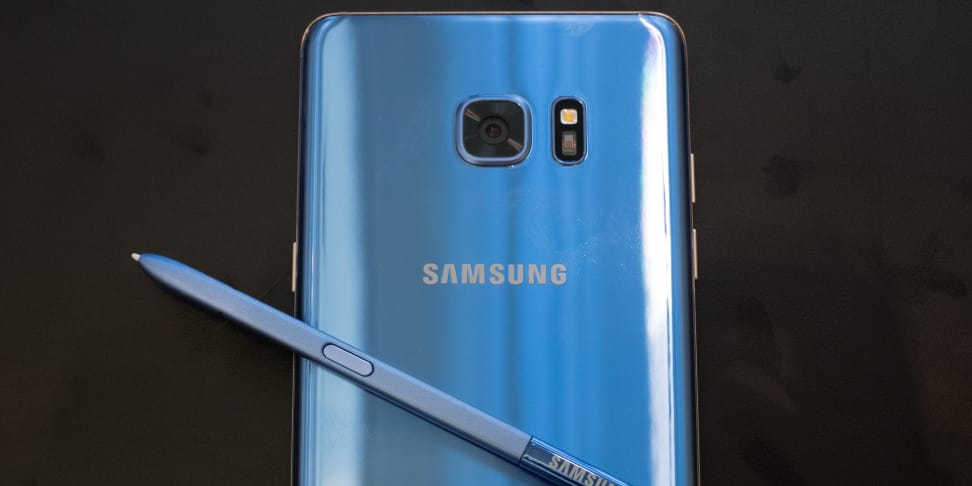 As mentioned, the Note 7 will be available in Coral Blue, Black Onyx, Titanium Silver, and Platinum Gold. All but the gold-colored model will be available in the US, and all of them are as shiny and glossy as the day is long. And, given the amount of times a Samsung representative asked me if the Note 7 I was shooting needed a "wipe down," I suspect this is a rather nitpicky criticism that will be seeing a ton of play when the phone goes on sale in a couple of weeks. The Galaxy series has seen this problem before, but I suspect this is the most severe it's ever been.
As of now, it's the edge display or nothing.
If you've never been able to warm up to Samsung's edge displays and have always found solace in the Note series' traditional flat screen, you'll be disappointed to learn that, as of now, there's no version of the Note 7 that doesn't feature a curved, edge-to-edge AMOLED display.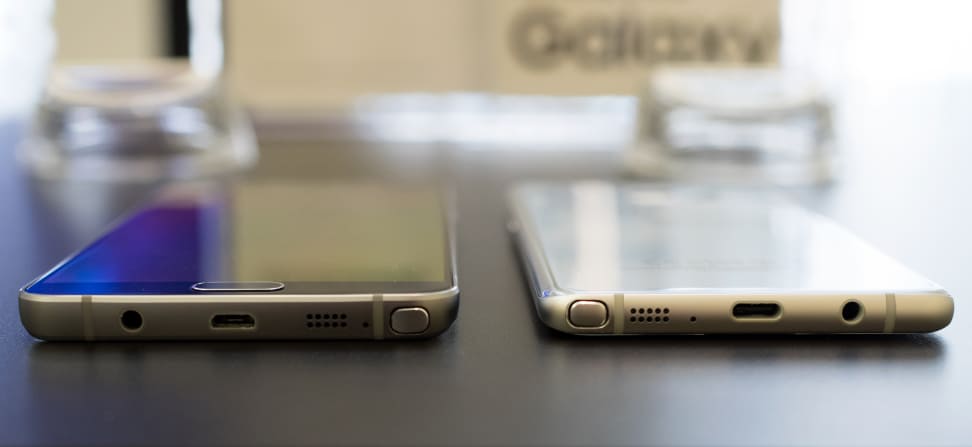 The Galaxy Note 7 is slimmer than its predecessor by a couple millimeters, but the decrease in thickness coincides with the decision to outfit the Note 7 with Samsung's signature curved edge display. The slimming-down of the Note 7 combined with the implementation of the curved screen will undoubtedly be good news for most, but if you've ever had a bone to pick with this technology, the lack of a flat-screened option might be a deal-breaker for you.
The good news, however, is that the curved display did not make it more difficult to keep a comfortable grip on the Note 7. It's still a monster of a phone, but its display doesn't seem like it'll be an issue for its size.
The Verdict
We're obviously not going to know how the Note 7 stacks up against both its competition and previous Galaxy smartphones until we put it through its paces in our lab, but color us excited to find out what's in store.
Given that the Note 7 is built on the perennial successes of the Galaxy line, it's hard not to get excited about it. After all, the Galaxy Note 5 and the Galaxy S7 are two of the best smartphones we've ever tested. The Note 7 marries these two phones and sweetens the pot with an souped-up battery, an iris scanner, an improved S Pen experience, and IP68 water resistance. It's a formula for success if I've ever seen one.
It's a formula for success if I've ever seen one.
Tweet It
Like the previous Note incarnations, the Note 7 isn't likely to bring any new phablet supporters into the fold; if you didn't like big phones to begin with, you're probably not going to go to plunk down the cash for one now. But for fans of bigger smartphones, it certainly seems like the Galaxy Note 7 is destined to be their champion.
Related Video
Our editors review and recommend products to help you buy the stuff you need. If you make a purchase by clicking one of our links, we may earn a small share of the revenue. Our picks and opinions are independent from any business incentives.